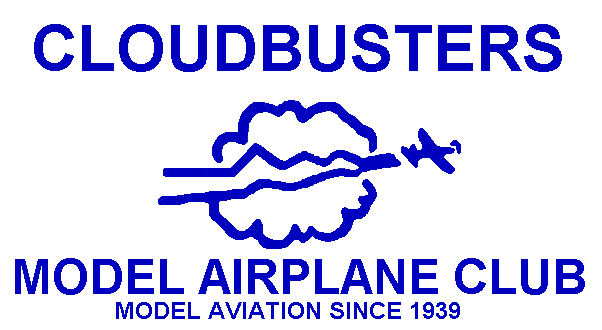 Welcome to the Cloudbusters Website!
We're very glad you dropped by!
Although most of our members are Free Flight Modelers, We have all kinds of Model Aviation represented.
We're grateful for your patience, our site is a work in Progre
NEW!!
Cloudbusters Tee shirts, Jackets, Hoodies and Bumper stickers are available.
We have a Web site for ordering them that will be open from March 10th to April 13th.
We will arrange to have the orders delivered.
To order, go HERE.
For more information, contact Vice President Winn Moore: Winn_Moore@Yahoo.com
Click HERE for FREE Victory Plans for the Pinkham Field Event
Click HERE for the Pinkham Field event RULES
Click HERE for plans and scale documentation for the one design contest at next years Cloudbusters FAC Outdoor Championships in September
Pictures of Cloudbusters AMA cub sessions are on the "Pictures from Events page".
There's indoor flying most Thursdays at Ultimate Soccer Dome
We will be flying each Thursday, 1:00 PM – 3:00 PM
Click HERE for the Flyer with the info
Membership in the Cloudbusters is $15.00 a year, which includes a subscription to the Cloudbusters Newsletter. Contact our Treasurer, Dan Olah (below) to join, and welcome!
OFFICERS
President
Mike Welshans
Vice President
Secretary and Webmaster
Davis Gloff
Treasurer
Dan Olah
Safety Officer
Bruce Thoms
Last updated: February 26th 2014 10:33am