Return to Cloudbusters Homepage
THE 2007 SPRING INDOOR FLING
An AMA Sanctioned Class AAA Contest
<![if !supportEmptyParas]> <![endif]>
<![if !supportEmptyParas]> <![endif]>
Presented By:       Cloudbusters Model Airplane Club, assisted by
Detroit Balsa Bugs
When:                        Sunday, May 6 from 8:00 AM to 8:00 PM
Where:                      INSIDE SWING Golf Dome, Flint, MI., A Category III site
<![if !supportEmptyParas]> <![endif]>
Event Schedule:
8:00 AM-9:45 AM    Standard Catapult Glider (218), Unlimited Class Catapult Glider (219)
                                    and Hand Launch Glider  (212) - All: (Jr.),plus (Sr., Op. Comb.)
9:00 AM                     Bostonian Judging
9:45 AM-4:00 PM    Manhattan Cabin (205), Limited Penny plane (208), Bostonian (215),
                                    F1L Easy B (217), Mini Stick (220) and Mini Stick Mass Launch,
ROG fly any of the following: Bladder 40, Jetco ROG, Phantom Flash,
                                    Science Olympiad- (Op.), (Jr., Sr. combined) There is no restriction
on rubber motor.
11:00 AM               Scale Judging
11:30 AM-4:00 PM  FAC Scale, FAC Peanut Scale, FAC Dime Scale, FAC No Cal Scale,
                                    (6.2 gram w/o motor), FAC WW-I Mass Launch, FAC WW-II Mass
                                    Launch, FAC Power Scale restricted to: CO2 , Electric( 6 oz. max. wt.), 
                                    1 minute max. for powered models.
4:00 PM-8:00 PM    Intermediate Stick (202), F1D Rubber (203)
F1D will be flown as a Regional Contest for the F1D 2007 Jr. & Sr.
Team Selection Program.
NFFS National Indoor Cup Event
Entry Fee:
$25- post marked by April 20
$30- at door
Jr. &  Sci. Olympiad $1.00
<![if !supportEmptyParas]> <![endif]>
Contest Director<![if !vml]>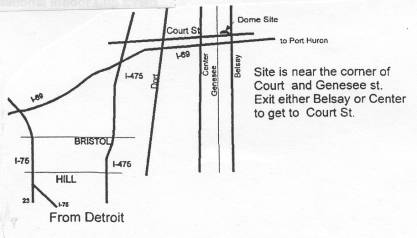 <![endif]>

Dan Olah 248-542-8144

Event Managers

AMA-Bill Shailor 248-398-3766

FAC-Mike Welshans 248-545-7601

FAC-Dave Bubolz 248-685-3114

FAI- Fred Tellier 519-944-1933

--------------------------------------------------------------------------------------------------------------------------

MAIL IN APPLICATION FORM

Name______________________________________________________ AMA #_______________

Address __________________________________________________________________________

City, State, Zip_____________________________________________________________________

<![if !vml]>

<![endif]><![if !mso]>

<![endif]>

 OFFICIAL USE

Contestant Number

<![if !mso]>

<![endif]><![if !mso & !vml]> <![endif]><![if !vml]>

<![endif]>Make $25 check payable to: Cloudbusters Model Airplane Club

Send before April 20, 2007 to:          Dan Olah

                                                            25436 Wareham Dr.

                                                            Huntington Woods, MI  48070-1604